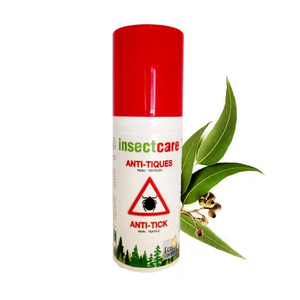 MoustiCare Insectcare® Anti-Tick Spray (50ml)
Regular price
Sale price
€9,90
Tax included.
Shipping
calculated at checkout.
---
The Insectcare® Anti-Tick Spray effectively protects the whole family against tick bites for 4 hours! Ideal for hikes and outings in the undergrowth. Also suitable for animals (horses, dogs, ferrets ..) and in the fight against sandflies.
Spray against ticks for skin and textiles - INSECTCARE®
It contains a strong repellent active ingredient of botanical origin: Eucalyptus Citriodora. Its high concentration ensures effective repelling of ticks for 4 hours. It is ideal protection for wild runners, hikers and horse riders, hunters and fishermen, as well as for anyone who works in gardens or forests.

Suitable for adults, pregnant women and children over 6 months *. Also suitable for animals (horses, dogs, ferrets...) to combat ticks and sand flies.

The tick is a carrier of serious diseases. The most common is Lyme disease, which is increasingly prevalent in Europe and North America with 300,000 reported cases per year in the United States and 27,000 cases per year in metropolitan France.

These ticks live in tall grass, hedgerows, bushes and underbrush and cling to you or your clothes when you shake them off.

Ticks like to settle on the scalp, so it is highly recommended to put on a hat or cap and soak it with tick repellent. In addition, it is strongly recommended to carry out a thorough and complete examination of his body and scalp after each visit to an environment in which there is a risk of the presence of ticks, since the tick in the nymph stage is difficult to see due to its very small size.
Dimensions: 170x135x145
Net weight: 81
Capacity: 50mL
Cosmetic DMD: 60 months
Effective protection for up to 4 hours (PMDRBO 20%)
No propellant gas.
Not photosensitizing.
Allowed in the airplane cabin (50ml)
Made in France
---------------------------------------------------------------------------------------------
TIPS FOR USE:
SHAKE THE BOTTLE. Spray evenly and liberally on clean, dry skin (1 spray = 0.18 ml and covers 80 cm²). For neck application, spray into hands and apply. Rub in lightly.
It can be used on textiles (trousers, sneakers, socks, etc.), but a preliminary test is recommended (danger of stains on light-colored clothes).
Do not exceed 3 applications per day. In case of heavy sweating, repeat the application every 3 hours.

Caution:
 

Avoid contact with eyes and mucous membranes. Keep out of children. Do not use it if you are allergic to any of the constituents. Do not swallow.

Made in France 
Use biocides carefully. Before use, read the label and product information.

PRECAUTIONS FOR USE:
Wash your hands thoroughly after handling. Avoid contact with eyes and mucous membranes. Causes severe eye irritation. IF IN EYES: Rinse carefully with water for several minutes. Remove contact lenses if the victim is wearing them and if they can be easily removed. Continue rinsing. If eye irritation persists: Get medical attention. May cause an allergic reaction. Keep out of reach of children. Do not consume. Dispose of the product in accordance with local regulations.
In the event of a tick bite, consult a pharmacist or doctor.
Use biocides with caution. Read the label and product information before use.
* "in areas with a risk of serious vector-borne disease".

Distributed in pharmacies, parapharmacies and organic stores
Biocides inventory number: 49386
TP 19
No. CAS 1245629804